Living With Coyote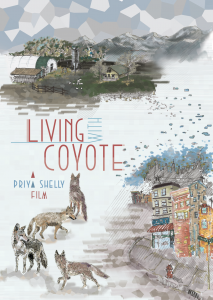 Coyotes can quickly adapt to their ever-changing surroundings, but have humans adapted to their wild neighbors? Living with Coyote explores the relationship between man and wild through urban and rural landscapes of the American West, and the people who choose to be actively involved in the hunt for coexistence.
Living With Coyote is now streaming on National Geographic's Short Film Showcase! 
A story of the American West's ongoing battle with the coyote, one of the most hated predators in the nation.
A Note From The Director
Living With Coyote unexpectedly began with a phone call about the conservation efforts of wolves and their impact on ranching communities of the American West. I placed the call to a University of Chicago Ph.D candidate with the intention of discussing these issues, but instead we delved into the topic of the wolf's canine cousin, the coyote. We discussed how, despite being a completely unprotected species, coyotes continue to thrive in every way possible across North America. Whatever environmental change comes their way, man made or not, coyotes will adapt to it – their numbers increase, their sleeping habits change, their diets vary.
Fascinated by the resilience of the coyote, I set off to Utah and Colorado to further research their notorious interaction with humans. I found that not only were coyotes predating on sheep in rural areas but they were also populating urban areas, surviving in territories of 2 square miles and feasting on fruit trees, pet food and garbage. The easy response to these issues is often to kill or remove the problem coyotes. There is no limit to how many coyotes can be killed, and several states, including Utah, have a bounty program with a cash incentive.
Often in mainstream media, we hear surface level accounts of coyote attacks or losses of livestock and big game, but we typically don't hear the underlying causes of these interactions. It was important for me to interview ranchers of the rural community and biologists of the urban community to grasp an idea of how people really felt. Do they want all coyotes dead or all alive? I found that the answer to this question is undoubtedly complex.
I decided I wanted to make the film about the relationship between human and coyote in correlation to the land that we share, which lead to the bigger picture: human responsibility and stewardship.
Further, I found myself falling in love with the rugged terrain of the Rocky Mountains in the American West. Snow-capped peaks, low hanging stratus clouds and vast open spaces made it a cinematographers dream.
I knew I wanted to create a quiet and contemplative narrative-style documentary that paid homage to the unforgiving landscape, a tertiary character of sorts, in which both people and coyotes depend on day after day. I wanted to show why earth matters equally to both human and animal.
The process of making the film was a challenge in itself, from lugging equipment up the mountains to battling fogged lenses and dead batteries due to rapid altitude and climate change. What kept me going was the encouragement from the biologists and ranchers who so desperately want their voices to be heard. After a year of talking with them and two weeks of filming, I found that they deserve it.
Priya Shelly
Donate Now
you choose amount
Living With Coyote is fiscally sponsored by Filmmaker's Alliance, a 501(c) 3 non-profit organization. All donations made to the film are tax deductible.
Fresh From Our Blog
Bringing you updates from all stages of production